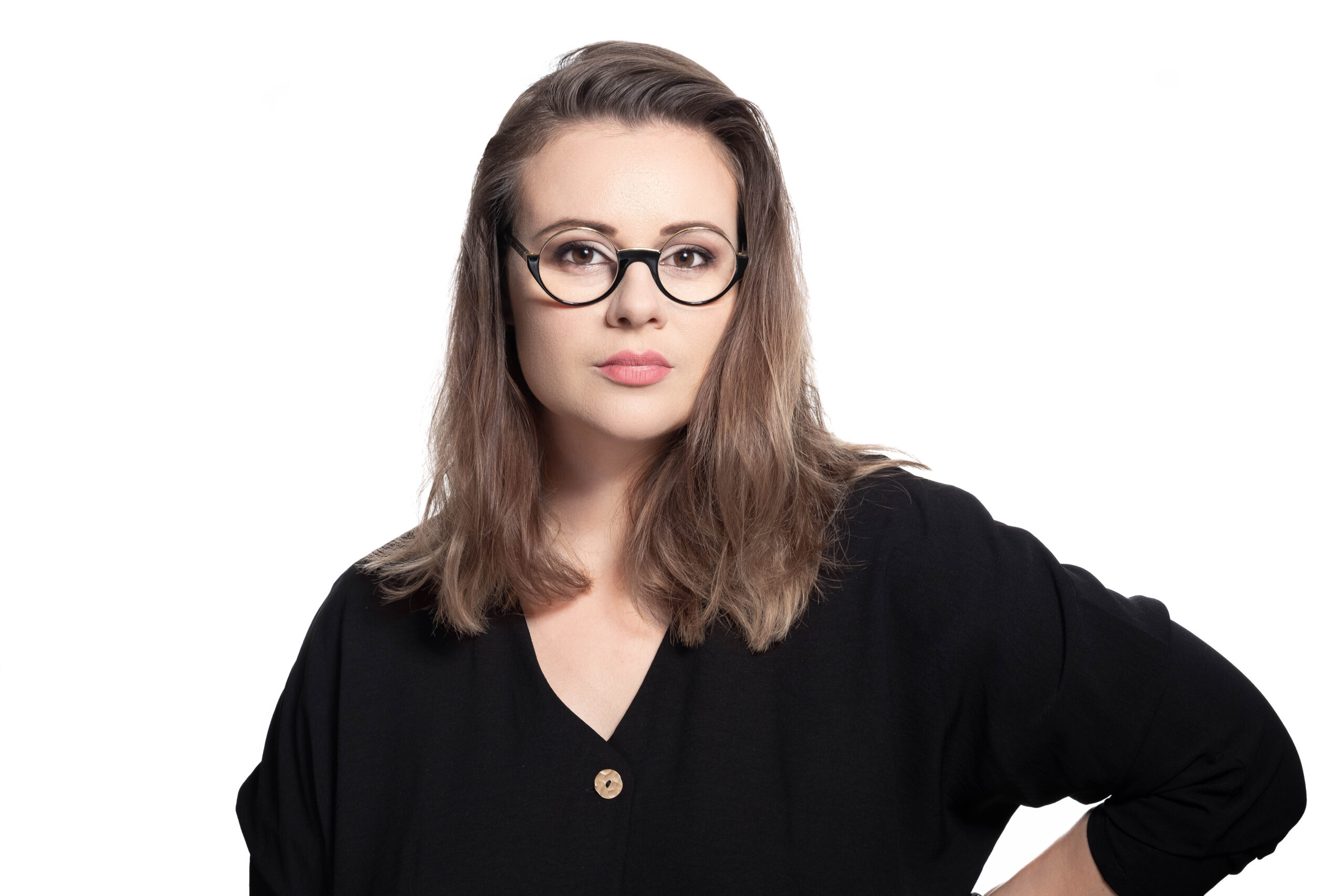 BIOGRAPHIE
Pauline Petit, née en 1986, est originaire de Normandie (France) où elle vit et travaille dans son atelier, le studio 22. Passionnée depuis l'enfance par les métiers artistiques, Pauline écrit et illustre une collection de livres pour enfants avant de devenir photographe portraitiste professionnelle en 2007.
En 2019, Pauline développe un travail personnel photographique pluridisciplinaire mélangeant photographie, illustration et peinture, et impliquant une certaine mise en scène conjuguant humour, esthétisme et graphisme.
BIOGRAPHY
Pauline Petit was born in 1986. She comes from Normandy (France) where she lives and works in her studio, the studio 22.
Ever since she was a child, Pauline has been interested in artistic careers.

That's why she wrote and illustrated a collection of children's books

becoming shortly thereafter a professional photographer in 2007.
In 2019, Pauline developed a multidisciplinary personal photography work, mixing illustration, painting, and photography, implicating a scenery of humor, graphic design and aesthetics.

EXPOSITIONS
2019 - VIF  Vincennes Images Festival - France
2021 - Confrontations Photo de Gex - France
2022 - Exposition annuelle de Limoges - Invitée d'Honneur - France
2022 - Exposition au Nikon Plaza de Paris - France

DISTINCTIONS ET CONCOURS

2019 - Concours Réponses Photo x Rencontres d'Arles
2ème Prix
2021 - Tokyo International Foto Awards 2020
Mention Honorable Catégorie Fine Art
2021 - Minimalist Photography Awards 2021
2ème PRIX Catégorie Portrait
2021 - Concours Eisa Maestro / Finaliste France
2ème Prix du Jury - 1er Prix du Public
2021 - Académie française des Arts Sciences et Lettres
Médaille d'Étain
2021 - Hasselblad Masters - Finaliste Catégorie Beauté & Mode
2021 - Budapest International Foto Awards 2021
Médaille d'Argent Catégorie Publicité & Beauté
2022 - Ambassadrice Nikon Europe
2022 - Prix Herez Corpo  / Finaliste
PUBLICATIONS LIVRE MAGAZINE ET WEB
2019 - Magazine OpenEye : Couverture et "Focus" - France


2020 - Magazine Photographize : "Featured Artist" - USA
2020 - Livre 100 [HUNDRED] Photographize - Best Selected Vol. 01 - USA
2020 - Magazine Fotomen : Rubrique "Interview" - Chine
2021 - Lens Magazine : The Big B&W Issue #80 - USA
2021 - Magazine Profession Photographe : Couverture et Portfolio - France
2021 - Magazine Amateur Photographer : Couverture et Article - Royaume-Uni
2021 - Magazine L'Illustré : Merveilles du Monde - Suisse
2021 - Magazine Foto Objectiv : Couverture - Autriche
2021 - Magazine Foto Kurier : Couverture - Pologne
2021 - Magazine Photo Net : Couverture - Grèce
2021 - Magazine Foto Magazin : Couverture - Allemagne
2022 - Magazine Profifoto : Couverture et Article - Hongrie
2022 - Magazine Photo Net : Couverture et Article - Grèce

INTERVIEWS PODCASTS / LIVES

2021 - Podcast Dans l'œil du Photographe : Épisode #35
2021 - Podcast Un Jour Une Clé de Cyril Lichan
2021 - Podcast Fotostudio.io : Épisode #56
2021 - Podcast The Photography Bar Podcast
2022 - Live Adobe France
CONFÉRENCES
2019 - Salon de la Photo de Paris - France
2021 - Congrès Annuel de la FFPMI - France
2022 - Exposition Annuelle de Limoges - France
2022 - Salon de la Photo de Paris - France

JUGEMENTS DE CONCOURS
2020 - Concours FPF Monochrome Papier National - France
2022 - Concours International de Mayet - Catégorie Monochrome - France

EXHIBITIONS
2019 - VIF  Vincennes Images Festival - France
2021 - Confrontations Photo de Gex - France
2022 - Annual Exhibition - Limoges - Guest of Honour - France
2022 - Exhibition at the Nikon Plaza in Paris - France
AWARDS
2019 - Contest Réponses Photo x Rencontres d'Arles
2nd Prize
2021 - Tokyo International Foto Awards 2020 
Honorable Mention Category Fine Art
2021 - Minimalist Photography Awards 2021 
2nd Prize Portrait Category
2021 - Eisa Maestro Contest / France Finalist
2nd Jury Prize - 1er Prize Public's Choice Award
2021 - French Academy of Arts Sciences and Letters
Tin Medal
2021 - Hasselblad Masters - Beauty & Fashion category finalist
2021 - Budapest International Foto Awards 2021
Silver Winner Adversing & Beauty category
2022 - Nikon Ambassador Europe
2022 - Herez Corpo Prize  / Finalist
BOOK MAGAZINE AND WEB PUBLICATIONS
2019 - OpenEye Magazine : Cover and "Focus" - France


2020 - Photographize Magazine : "Featured Artist" - USA
2020 - Book 100 [HUNDRED] Photographize - Best Selected Vol. 01 - USA
2020 - Fotomen Magazine : "Interview" - China
2021 - Lens Magazine : The Big B&W Issue #80 - USA
2021 - Profession Photographe Magazine : Cover and Portfolio - France
2021 - Amateur Photographer Magazine : Cover and Article - UK
2021 - L'Illustré Magazine - Switzerland
2021 - Foto Objectiv Magazine : Cover - Austria
2021 - Foto Kurier Magazine : Cover - Poland
2021 - Photo Net Magazine : Cover - Greece
2021 - Foto Magazin : Cover - Germany
2022 - Profifoto : Cover and Article - Hungary
2022 - Photo Net Magazine : Cover and Article - Greece
INTERVIEWS PODCASTS / LIVES

2021 - Dans l'Oeil du Photographe Podcast : Épisode #35
2021 - Un Jour Une Clé Podcast de Cyril Lichan
2021 - Fotostudio.io Podcast : Épisode #56
2021 - The Photography Bar Podcast
2022 - Live Adobe France
CONFERENCES
2019 - Paris Photo Fair - France
2021 - FFPMI National Congress - France
2022 - Annual Exposition - Limoges - France
2022 - Paris Photo Fair - France
CONTEST JUDGEMENTS
2020 - FPF National Monochrome Paper Contest -
France
2022 - International Mayet Contest - Monochrome Category - France